At Lindsays, we respect your privacy and we are committed to protecting your personal data. This privacy notice will inform you as to how we look after and deal with your personal data and tell you about your privacy rights and how the law protects you. 
IMPORTANT INFORMATION AND WHO WE ARE
Purpose of this Privacy Notice
This privacy notice aims to give you information on how Lindsays collects and processes your personal data, including any data you may provide through this website when you sign up to our Mailing List or complete the Contact Us form. 
It is important that you read this privacy notice so that you are fully aware of how and why we are using your data. This privacy notice supplements any other privacy notice or fair processing notice we may provide on specific occasions when we are collecting or processing personal data about you and is not intended to override them. 
Please note, this website is not intended for children and we do not knowingly collect data relating to children.
Controller
Lindsays is the data controller and responsible for your personal data.
If you have any questions about this privacy notice, including any requests to exercise your legal rights, please contact the Data Protection Officer using the details set out below. 
Contact Details
If you wish to contact us, our full details are:
Full name of legal entity: Lindsays
Name or title of Data Protection Officer: Ian Beattie
Email address: IanBeattie@lindsays.co.uk
Postal address: 19A Canning Street, Edinburgh EH3 8HE
You have the right to make a complaint at any time to the Information Commissioner's Office (ICO), the UK's supervisory authority for data protection issues (www.ico.org.uk). We would, however, appreciate the chance to deal with your concerns before you approach the ICO, so please contact us in the first instance. 
Changes to the Privacy Notice 
We may update this privacy notice from time to time. Please review this privacy notice periodically for changes. This privacy notice was last updated on 24 May 2018. 
Third Party Links
This website may include links to third party websites, plug-ins and applications. Clicking on those links or enabling those connections may allow third parties to collect or share data about you. We do not control these third party websites, plug-ins and applications and we are not responsible for their privacy notices. When you leave our website, we encourage you to read the privacy notice of every website you visit.
Cookies
You can set your browser to refuse all or some browser cookies, or to alert you when websites set or access cookies. If you disable or refuse cookies, please note that some parts of this website may become inaccessible or not function properly. For more information about the cookies we use, please click here.  
Data Security 
We have put in place appropriate security measures to prevent your personal data from being accidentally or unlawfully lost, used, accessed, altered or disclosed. We have put in place procedures to deal with any suspected personal data breach and will notify you and any applicable regulator of a breach where we are legally required to do so.
In addition, we limit access to your personal data to those agents, contractors and other third parties who have a business need to know. They will only process your personal data on our instructions and they are subject to a duty of confidentiality. 
Please note that the transmission of information via the Internet is not completely secure and so we cannot guarantee the security of your information transmitted to our website.
HOW WE COLLECT AND USE YOUR PERSONAL DATA 
Personal data, or personal information, means any information about an individual from which that person can be identified. It does not include data where the identity has been removed (anonymous data).
We may collect, use, store and transfer different kinds of personal data about you in different ways and for different purposes. Please use the links below to view the different ways we collect and process your personal data:
Change of Purpose 
We will only use your personal data for the purposes for which we collected it, unless we reasonably consider that we need to use it for another reason and that reason is compatible with the original purpose. If you wish to get an explanation as to how the processing for the new purpose is compatible with the original purpose, please contact us. 
If we need to use your personal data for an unrelated purpose, we will notify you and we will explain the legal basis which allows us to do so.
Please note that we may process your personal data without your knowledge or consent, in compliance with the above rules, where this is required or permitted by law or our regulatory obligations.
YOUR PRIVACY RIGHTS
Under certain circumstances, you have rights under data protection laws in relation to your personal data.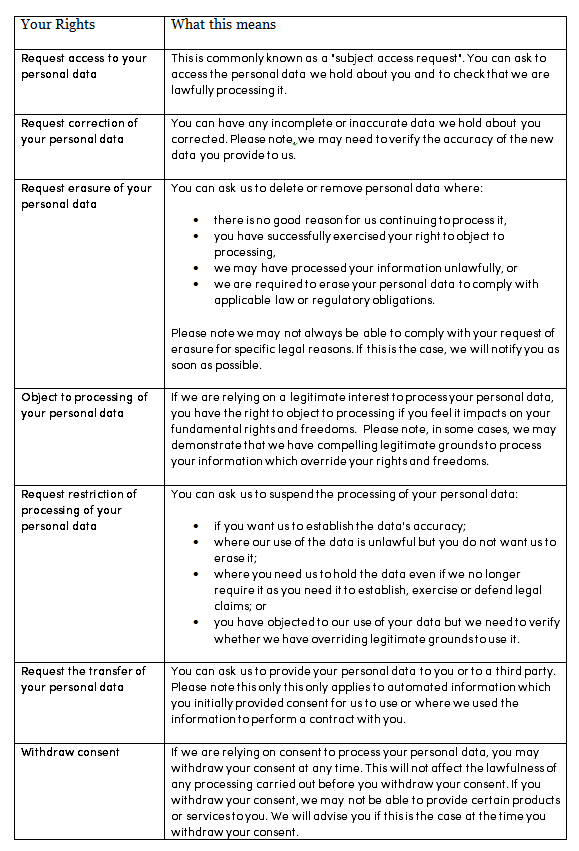 Exercising your Legal Rights 
If you wish to exercise any of the rights set out above, please contact us. 
No fee usually required
You will not have to pay a fee to access your personal data (or to exercise any of the other rights). However, we may charge a reasonable fee if your request is clearly unfounded, repetitive or excessive. Alternatively, we may refuse to comply with your request in these circumstances.
What we may need from you
We may need to request specific information from you to help us confirm your identity and ensure your right to access your personal data (or to exercise any of your other rights). This is a security measure to ensure that personal data is not disclosed to any person who has no right to receive it. We may also contact you to ask you for further information to clarify the scope of your request.
Time limit to respond
We try to respond to all legitimate requests within one month. Occasionally it may take us longer than a month if your request is particularly complex or you have made a number of requests. In this case, we will notify you and keep you updated.